Trick Props For:
Parakeets:
Budgerigar (Budgie)
Alexandrine Parakeet
Rose Ringed Parakeet (African Ringneck, Indian Ringneck)
Monk Parakeet (Quaker Parrot)

Parrotlets:
Mexican Parrotlet
Green Rumped Parrotlet
Blue Winged Parrotlet
Spectacled Parrotlet
Dusky Billed Parrotlet
Pacific Parrotlet
Yellow Faced Parrotlet

Lovebirds:
Rosy Faced (Peach Faced) Lovebird
Yellow Collared (Masked)Lovebird
Fischer's Lovebird
Lilian's (Nyasa) Lovebird
Black Cheeked Lovebird
Grey Headed (Madagascar) Lovebird
Black Winged (Abyssinian) Lovebird
Red Headed (Red Faced) Lovebird
Black Collared (Swindern's) Lovebird

Lories and Lorikeets:
Rainbow Lorikeet

Conures:
Sun Conure
Jenday Conure
Cherry Headed Conure
Blue Crowned Conure
Mitred Conure
Patagonian Conure (Burrowing Parrot)
Green Cheeked Conure
Nanday Conure
Gold Capped Conure

Caiques:
Black Capped Parrot (Black Headed Caique)
White Bellied Parrot (White Bellied Caique)

Poicephalus Parrots:
Senegal Parrot
Meyer's Parrot
Red Bellied Parrot
Brown Headed Parrot
Jardine's Parrot
Cape Parrot
Ruppell's Parrot

Hawk Headed Parrot:
Red Fan (Hawk Headed) Parrot

Eclectus:
Eclectus Parrot

African Greys:
Congo African Grey (CAG)
Timneh African Grey (TAG)

Amazons:
Cuban Amazon (Rose Throated Parrot)
Blue Fronted Amazon
Yellow Naped Amazon
Yellow Headed Amazon
Orange Winged Amazon
Yellow Crowned Amazon
White Fronted Amazon
Lilac Crowned Amazon
Red Lored Amazon
Mealy Amazon

Cockatoos:
Cockatiel
Galah (Rose Breasted) Cockatoo
Sulphur Crested Cockatoo
White (Umbrella) Cockatoo
Salmon Crested (Moluccan) Cockatoo
Little Corella (Bare Eyed Cockatoo)
Tanimbar Corella (Goffin's Cockatoo)
Palm Cockatoo

Macaws:
Red Shouldered (Hahn's) Macaw
Chestnut Fronted (Severe) Macaw
Blue And Yellow (Blue And Gold) Macaw
Blue Throated Macaw
Military Macaw
Red Fronted Macaw
Great Green (Buffon's) Macaw
Scarlet Macaw
Red And Green (Green Winged) Macaw
Hyacinth Macaw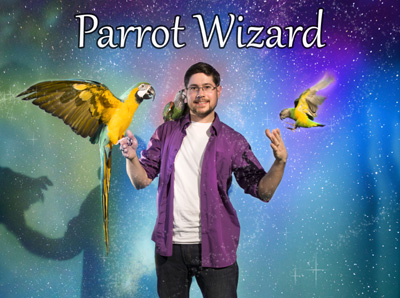 The Parrot Wizard welcomes you to a magical place. A place where parrots and people can be great friends and coexist in harmony. A well-behaved parrot is no longer just a dream, with the help of the Parrot Wizard, it can be your every day reality.
Routine, diet, taming, training, and understanding not only solve biting, screaming, plucking, and hormonal problems but also bring you and your parrot closer together than ever before. Learn about the Parrot Wizard approach to harmonious parrot keeping.

With the help of the Parrot Wizard, your home can be a welcoming place for your feathered companion. Specialized NU Perches, stands, trees, and training perches can make your home be your parrot's tropical paradise. Safety, quality, and functionality are integral to every Parrot Wizard product. Keeping a parrot is more than just having a pet, it's a lifestyle. Learn how the Parrot Wizard Lifestyle can make your parrot keeping experience purely magical.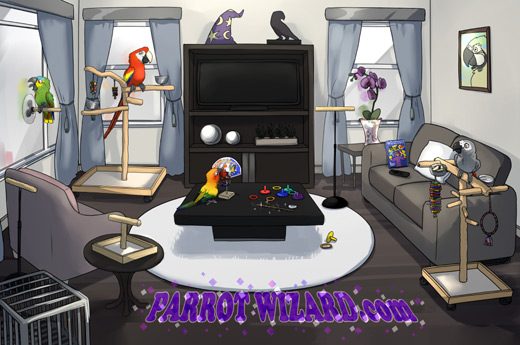 Michael Sazhin is the Parrot Wizard. His amazing performing parrots entertain audiences around the world. Kili & Truman are not only famous for their tricks but also their outgoing friendliness. Michael shares his knowledge of parrot training on the Trained Parrot Blog. Michael is also the creator of a wide array of parrot products. Check out his book, The Parrot Wizard's Guide to Well-Behaved Parrots to learn his complete approach to successful parrot keeping!
Some Parrot Wizard Performances

Get Parrot Training Perches and teach your parrot tricks!