Trick Props For:
Parakeets:
Budgerigar (Budgie)
Alexandrine Parakeet
Rose Ringed Parakeet (African Ringneck, Indian Ringneck)
Monk Parakeet (Quaker Parrot)

Parrotlets:
Mexican Parrotlet
Green Rumped Parrotlet
Blue Winged Parrotlet
Spectacled Parrotlet
Dusky Billed Parrotlet
Pacific Parrotlet
Yellow Faced Parrotlet

Lovebirds:
Rosy Faced (Peach Faced) Lovebird
Yellow Collared (Masked)Lovebird
Fischer's Lovebird
Lilian's (Nyasa) Lovebird
Black Cheeked Lovebird
Grey Headed (Madagascar) Lovebird
Black Winged (Abyssinian) Lovebird
Red Headed (Red Faced) Lovebird
Black Collared (Swindern's) Lovebird

Lories and Lorikeets:
Rainbow Lorikeet

Conures:
Sun Conure
Jenday Conure
Cherry Headed Conure
Blue Crowned Conure
Mitred Conure
Patagonian Conure (Burrowing Parrot)
Green Cheeked Conure
Nanday Conure
Gold Capped Conure

Caiques:
Black Capped Parrot (Black Headed Caique)
White Bellied Parrot (White Bellied Caique)

Poicephalus Parrots:
Senegal Parrot
Meyer's Parrot
Red Bellied Parrot
Brown Headed Parrot
Jardine's Parrot
Cape Parrot
Ruppell's Parrot

Hawk Headed Parrot:
Red Fan (Hawk Headed) Parrot

Eclectus:
Eclectus Parrot

African Greys:
Congo African Grey (CAG)
Timneh African Grey (TAG)

Amazons:
Cuban Amazon (Rose Throated Parrot)
Blue Fronted Amazon
Yellow Naped Amazon
Yellow Headed Amazon
Orange Winged Amazon
Yellow Crowned Amazon
White Fronted Amazon
Lilac Crowned Amazon
Red Lored Amazon
Mealy Amazon

Cockatoos:
Cockatiel
Galah (Rose Breasted) Cockatoo
Sulphur Crested Cockatoo
White (Umbrella) Cockatoo
Salmon Crested (Moluccan) Cockatoo
Little Corella (Bare Eyed Cockatoo)
Tanimbar Corella (Goffin's Cockatoo)
Palm Cockatoo

Macaws:
Red Shouldered (Hahn's) Macaw
Chestnut Fronted (Severe) Macaw
Blue And Yellow (Blue And Gold) Macaw
Blue Throated Macaw
Military Macaw
Red Fronted Macaw
Great Green (Buffon's) Macaw
Scarlet Macaw
Red And Green (Green Winged) Macaw
Hyacinth Macaw

Parrot Training Perch Kit

Includes:
· 2x Parrot Training Stands
· 2x NU Perches (choice of size and type)
· BONUS NU Perch for cage
· Clicker, target stick, instructions, and basic training DVD
· Shipping within continental US
·

Free shipping and 10% off on any additional Parrot Wizard products

$149.99


Endless uses for Parrot Training Perches:
· Target training
· Perch to perch flight training
· Recall flight training to your hand
· Training parrot tricks such as wave, shake, nod, turn around, wings
· Advanced and variable height flight recall
· Potty training parrot to poop from stand onto newspaper
· Socializing parrots to each other
· Place for parrot to hang out and play with toys


Parrot Training Perches™ eliminate the distraction that colorful play gyms and multi-branched climbing trees can create, keeping your parrot's attention on you for training. Since the two stands are independent, the ways you can line them up are numerous. Set them up parallel to each other to teach the parrot to fly between the two stands. Set the perches up perpendicular to each other to keep two parrots on them but not fight with each other.

These parrot stands are great for small to medium sized parrots including Budgerigar, Cockatiel, Parrotlet, Lovebird, Parakeet, Sun Conure and other Conures, Senegal and other Poicephalus Parrots, African Grey, Cockatoo, Amazon, and small Macaws. T Perches are now available for large cockatoos and macaws.

Standard perches stand to one side from center and are about 12" long.
T-Perches stand on the center and are about 18" long.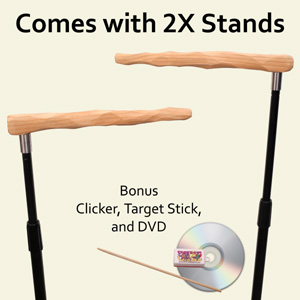 The height of the stands is adjustable from 34-62" and they weigh around 10 pounds each. The heavy base ensures that the stands do not tip over when a parrot lands on the perch at speed. The NU Perch® which is included is more comfortable for your parrot and affords an easier landing point than machined dowels or natural perches.

The included patented NU Perches are more comfortable for your parrot and afford an easier landing point than machined dowels or natural perches. NU Perches are 100% non-toxic for your parrot. Stainless steel bolt and socket for added durability and peace of mind!

Perches are also available in hardwood for strong chewers and extra durability. The hardwood perches are the same as regular NU Perches but made from a much harder wood. Not only do they resist chewing, they are also a bit easier to clean and hold up better to heavy use. Because the wood is harder, you can scrub, scrape, or water blast the perch with greater intensity during cleaning. The wood is also less porous so it is less prone to being stained. More information about hardwood perches can be found on the Hardwood NU Perch page.

Perches are available in four sizes and two configurations. Get the standard inverted L shaped perches for most of your training needs. For training multiple parrots on the same perch or for heavier birds, you can opt for a T perch. Available sizes are small, medium, large, XL, and XXL . Small (1/2" diameter) is required for budgies, cockatiels, parrotlets, lovebirds, and conures. The medium (3/4" diameter) size is better suited for Senegals, Caiques, small Amazon Parrots, Galah, and other parrots of that size range. For larger parrot, buy a large (1-1/4" diameter) sized perch. The large sized perch is ideal for African Greys, Cockatoos, Amazons, and small Macaws. XL (2" diameter) is for most macaws around Blue and Gold size. XXL (2-1/2" diameter) is for the biggest macaws like Green-Winged Macaw and Hyacinth. Please contact if you have any questions about which size is right for your parrot, just be sure to specify the species. A new extra large T perch is now available for large Cockatoos and Macaws. You can choose your variant in the options prior to ordering; all standard perches are priced the same. T Perches are a little extra. Keep in mind that since each perch is one of a kind, exact size and appearance will vary.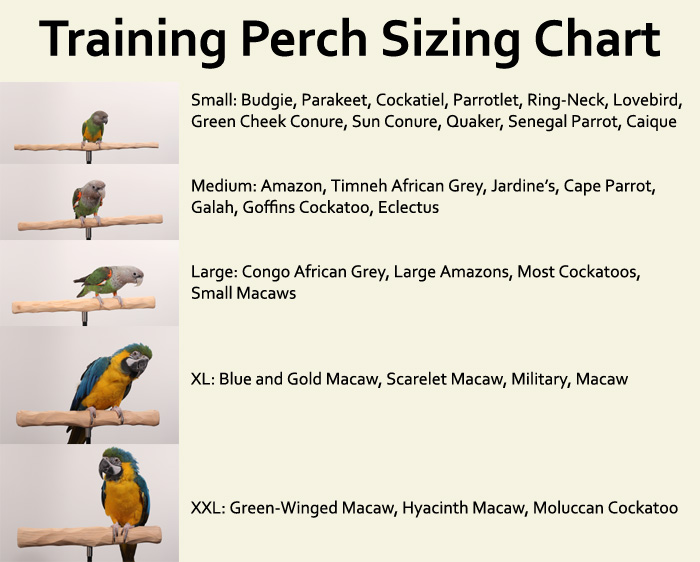 Parrot Training Perch Sizing Table
Small
Medium
Large
XL
XXL
Budgie
Lovebird
Cockatiel
Conure
Senegal Parrot
Quaker Parrot
Hahns Macaw
Ring-Necked Parakeet
Other Parakeets
Amazon
Galah
Timneh Grey
Eclectus
Cape Parrot

Congo African Grey
Yellow-Naped Amazon
Most Cockatoos
Small Macaws
Blue & Gold Macaw
Scarlet Macaw
Military Macaw

Green-Winged Macaw
Hyacinth Macaw
Moluccan Cockatoo

The stands are built in cast metal and are corrosion free. The perch sits atop a stainless steel connector for maximum durability as well as safety for your parrot. Cleaning is very easy. Wipe down with a cloth, put in the shower, or take outside for a hose down. The perch can be replaced independently of the base if the parrot chews and breaks it. Stands come with a one year limited warranty. Replacement perches are available. It is easy to add a newspaper at the base to collect any mess.

These stands are compact and transportable. Not only can you easily move them around the house, you can bring them along with you whenever you travel with your parrots to provide them a place to stay when outside of the carrier. You can also bring the stands outside to provide your parrot a familiar place to sit (and fly to) if you take it outdoors wearing a flight harness. The stands are quite compact without disassembly but furthermore, the base and perch can be unscrewed in seconds for a very tight fit if necessary.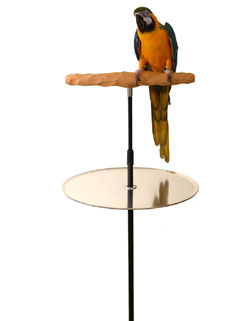 Add a Potty Tray™ to any Training Perch for convenient clean up and mess containment. The Potty Tray height can be adjusted to clear your parrot's tail but still remain in close proximity. The Potty Tray helps you turn your training perch into a convenient birdie bathroom.

The Potty Tray is only recommended with the T-Perch option. Although the Potty Tray can be used with standard perches, it will be out of scale.

Click here to order a Potty Tray™
Parrot Training Perch Kit

Includes:
· 2x Parrot Training Stands
· 2x NU Perches (choice of size and type)
· BONUS NU Perch for cage
· Clicker, target stick, instructions, and basic training DVD
· Shipping within continental US
·

Free shipping and 10% off on any additional Parrot Wizard products

$149.99
Single Parrot Training Perch

Includes:
· 1x Parrot Training Stand
· 1x NU Perch (choice of size and type)
· Shipping within continental US

$89.99
Get replacement perches if you already have a Parrot Training Perch Kit:
Replacement Training Perch

Includes:
· 1x Replacement Perch of specified size/type
· Compatible only with an existing Parrot Training Perch

$14.99 & Up
Get a Parrot Flight Training Hoop Add-On for Parrot Training Perch Kit:
Parrot Flight Training Hoop

Includes:
· 1x Flight Training Hoop For Training Perch
· Compatible only with an existing Parrot Training Perch

$49.99 & Up