The unique NU Perch® is made exclusively by Parrot Wizard. These special wood perches balance the best of both natural and unnatural perches. They are the safest and most comfortable perches you can provide your parrot in its cage. NU Perches feature all stainless steel hardware for durability and to ensure your parrot's safety.

Natural wood branches are great for parrots but unfortunately they can be disease or bug ridden. Usually it takes a few feet of length for a natural perch to taper sufficiently to give the parrot a variety of diameters for its feet to exercise. Many types of natural perches are too smooth and slippery so parrots can't comfortably grip them. NU Perches solve this problem by providing a more bumpy textured surface. Since they are machined artificially, they can be much more carefully controlled for quality and to ensure they are hazard free.

All other machined perches are too predictable and smooth. They are terrible for parrots because they make them keep their feet in the same position all day long. This is not the case with NU Perches because they are intentionally machined to be random and imitate the best aspects of natural perches. Yet since they are machined, they are produced in a more uniform manner so when you order online, you know what you are getting. There's no surprise that you see a perch the shape you want online and then the one you get is completely different. But, because of the patented process used to manufacture NU Perches, no two perches are exactly alike. They always offer enough variation to be fun and natural like.

NU Perches are created from parrot safe, non-toxic, douglas fir wood. It is quite durable but at the same time soft enough that your parrot can have a good grip. Extra large stainless steel washers are included to ensure safe easy mounting in any cage. No tools required, simply hand tighten the included stainless steel wing nut. Hardware won't break or rust whether you use it inside or outdoors. Perches are package sealed to prevent contamination or bugs. Perch is guaranteed free of manufacturing defects and hardware is guaranteed for life.*

For big chewers or just for a longer lasting perch, check out my new line of Deluxe Hardwood NU Perches. The same look and feel but virtually indestructible!

Check out the Perfect Perch for an even better squiggly/tapered NU Perch.

My parrots Kili & Truman love their NU Perches and choose to spend a lot of time on them in their cages. The main reason I think parrots love my NU Perches so much is because they can pick a comfortable spot of just the right diameter to sit on.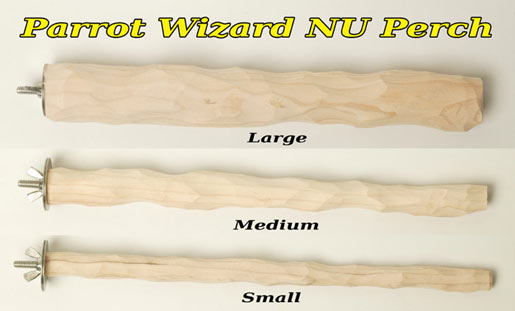 NU Perches are 12" long and currently available in 3 sizes.
Small $12.99 - Budgie, Cockatiel, Lovebird, Parrotlet, Parakeet, GCC
Medium $13.99 - Senegal, Conures, Galah, Caique, Eclectus, Timneh, Amazon
Large $14.99 - Grey, Large Cockatoos, Macaws

Free shipping on standard NU Perches!

For best results, purchase NU Perches of assorted sizes for your parrot (ex small and medium for a Senegal, medium and large for a Grey) and see which it prefers. The following diameters are approximate as each perch varies a little: small 3/4", medium 1", large 1-1/4", XL 2"

Now available in extended 18" length as well:
Small $17.99 - Budgie, Cockatiel, Lovebird, Parrotlet, Parakeet, GCC
Medium $18.99 - Senegal, Conures, Galah, Caique, Eclectus, Timneh, Amazon
Large $19.99 - Grey, Large Cockatoos, Macaws
XL $24.99 - Macaws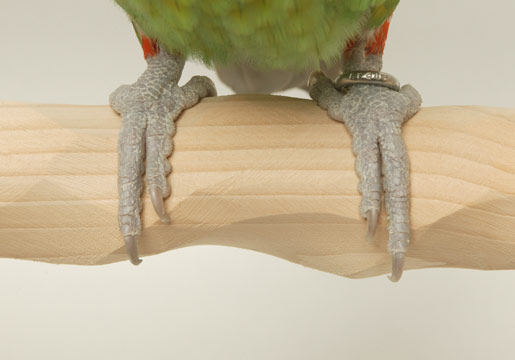 A parrot's perch is its shoes, bed, and couch. Why settle for anything less than the best?


Custom sized NU Perches from 6 inches to 6 feet long can be ordered by special arrangement. Please contact with the details of the custom perch you would like to order.



*Hardware is guaranteed for the life of the perch itself. It is guaranteed that it will not break or rust whether used indoors or outdoors. As parrots can be big chewers, the perch itself is only guaranteed to arrive intact on arrival. It is impossible to guarantee your parrot can't break it and in fact it is healthy for your parrot to chew up and break things. Better the replaceable perches than your furniture.

Features:
· Comfortable perch
· Easy to grip
· Exercises feet
· Patented design
· 100% safe to chew
· All stainless steel hardware
· Oversized washers for easy mounting
· Package sealed to prevent contamination
· Lifetime guarantee on mounting hardware






NU Perch® (for cage)

Includes:
· 1x 12" NU Perch®
· 2x Stainless Steel Washers
· 1x Stainless Steel Wing Nut
· Free shipping

$12.99 & up
18inch Extended Version NU Perch:
NU Perch® - 18in Extended

Includes:
· 1x 18" NU Perch®
· 2x Stainless Steel Washers
· 1x Stainless Steel Wing Nut

$17.99 & Up
Deluxe Hardwood NU Perch®

Includes:
· 1x 12" Deluxe Hardwood NU Perch®
· 2x Stainless Steel Washers
· 1x Stainless Steel Wing Nut
· 30 day indestructo guarantee
· Expedited Shipping

$19.99 & Up
18inch Extended Version Hardwood NU Perch:
Deluxe Hardwood NU Perch® - 18in

Includes:
· 1x 18" Deluxe Hardwood NU Perch®
· 2x Stainless Steel Washers
· 1x Stainless Steel Wing Nut
· 30 day indestructo guarantee
· Expedited Shipping

$24.99 & Up
Also available in the squiggly/tapered Perfect Perch:
Perfect Perch

Includes:
· 1x 18" Perfect Perch™
· 2x Stainless Steel Washers
· 1x Stainless Steel Wing Nut

$24.99