Trick Props For:
Parakeets:
Budgerigar (Budgie)
Alexandrine Parakeet
Rose Ringed Parakeet (African Ringneck, Indian Ringneck)
Monk Parakeet (Quaker Parrot)

Parrotlets:
Mexican Parrotlet
Green Rumped Parrotlet
Blue Winged Parrotlet
Spectacled Parrotlet
Dusky Billed Parrotlet
Pacific Parrotlet
Yellow Faced Parrotlet

Lovebirds:
Rosy Faced (Peach Faced) Lovebird
Yellow Collared (Masked)Lovebird
Fischer's Lovebird
Lilian's (Nyasa) Lovebird
Black Cheeked Lovebird
Grey Headed (Madagascar) Lovebird
Black Winged (Abyssinian) Lovebird
Red Headed (Red Faced) Lovebird
Black Collared (Swindern's) Lovebird

Lories and Lorikeets:
Rainbow Lorikeet

Conures:
Sun Conure
Jenday Conure
Cherry Headed Conure
Blue Crowned Conure
Mitred Conure
Patagonian Conure (Burrowing Parrot)
Green Cheeked Conure
Nanday Conure
Gold Capped Conure

Caiques:
Black Capped Parrot (Black Headed Caique)
White Bellied Parrot (White Bellied Caique)

Poicephalus Parrots:
Senegal Parrot
Meyer's Parrot
Red Bellied Parrot
Brown Headed Parrot
Jardine's Parrot
Cape Parrot
Ruppell's Parrot

Hawk Headed Parrot:
Red Fan (Hawk Headed) Parrot

Eclectus:
Eclectus Parrot

African Greys:
Congo African Grey (CAG)
Timneh African Grey (TAG)

Amazons:
Cuban Amazon (Rose Throated Parrot)
Blue Fronted Amazon
Yellow Naped Amazon
Yellow Headed Amazon
Orange Winged Amazon
Yellow Crowned Amazon
White Fronted Amazon
Lilac Crowned Amazon
Red Lored Amazon
Mealy Amazon

Cockatoos:
Cockatiel
Galah (Rose Breasted) Cockatoo
Sulphur Crested Cockatoo
White (Umbrella) Cockatoo
Salmon Crested (Moluccan) Cockatoo
Little Corella (Bare Eyed Cockatoo)
Tanimbar Corella (Goffin's Cockatoo)
Palm Cockatoo

Macaws:
Red Shouldered (Hahn's) Macaw
Chestnut Fronted (Severe) Macaw
Blue And Yellow (Blue And Gold) Macaw
Blue Throated Macaw
Military Macaw
Red Fronted Macaw
Great Green (Buffon's) Macaw
Scarlet Macaw
Red And Green (Green Winged) Macaw
Hyacinth Macaw

Show your parrot's pink side! Get the Parrot Wizard Go Pink Kit featuring a pink Aviator Harness, Harness Training DVD, and pink goodies for you and your parrot to share!

Now, exclusively from Parrot Wizard, Pink Aviator Harnesses in sizes XS and Petite are available! You can't get a pink harness in these sizes anywhere else.

To enhance your pink experience, the kit includes a pink I Heart Parrots Mood Bracelet, pink I Heart Parrots Pencil, pink shopping bag, and pink Parrot Claw Trimmer file. Use this file to trim your parrot's or your own nails.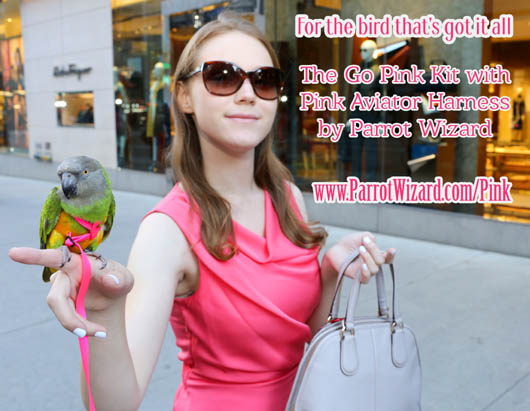 For the bird that's got it all, the Go Pink Kit with Aviator Harness by Parrot Wizard. These pink harnesses look especially good on Green Cheek Conure, White Cockatiels, Senegal Parrot, Ringneck Parakeet, and other green colored parrots.


Use the Aviator Harness selection wizard by clicking on the size of parrot above.
Features:
· Only way to get a pink harness
· Harness Training DVD
· Pink Goodies
Go Pink Aviator Harness Kit

Includes:
· Pink Aviator Harness
· Harness Training DVD
· Pink Bracelet
· Pink Pencil
· Pink Bag
· Pink Claw Trimmer

$39.99

$49.99